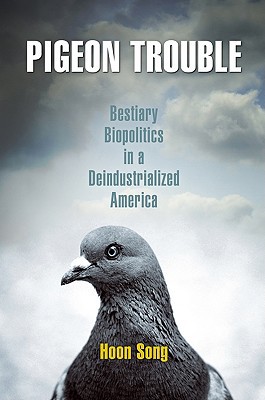 For the twenty fourth session of our reading group we will read Hoon Song's work on "pigeon matters" down in Pennsylvania's coal country.
Description from University of Pennsylvania Press:
Pigeon Trouble chronicles a foreign-born, birdphobic anthropologist's venture into the occult craft of pigeon shooting in the depths of Pennsylvania's anthracite coal country. Though initially drawn by a widely publicized antipigeon shoot protest by animal rights activists, the author quickly finds himself traversing into a territory much stranger than clashing worldviews— an uncanny world saturated with pigeon matters, both figuratively and literally.
What transpires is a sustained meditation on self-reflexivity as the author teeters at the limit of his investigation—his own fear of birds. The result is an intimate portrayal of the miners' world of conspiracy theory, anti-Semitism, and whiteness, all inscribed one way or another by pigeon matters, and seen through the anguished eyes of a birdphobe. This bestiary experiment through a phobic gaze concludes with a critique on the visual trope in anthropology's self-reflexive turn.
An ethnographer with a taste for philosophy, Song writes in a distinctive descriptive and analytical style, obsessed with his locale and its inhabitants, constantly monitoring his own reactions and his impact on others, but always teasing out larger implications to his subject.