In this fifiteenth session of CARG we read Yael Navaro-Yashin's ethnography of postwar politics and social relations in Northern Cyprus.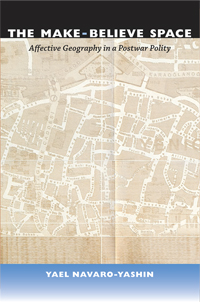 Navaro-Yashin, Yael. 2012. The Make-Believe Space: Affective Geography in a Postwar Polity. Durham: Duke University Press.
Description from Duke University Press:
The Make-Believe Space is a book of ethnographic and theoretical meditation on the phantasmatic entanglement of materialities in the aftermath of war, displacement, and expropriation. "Northern Cyprus," carved out as a separate space and defined as a distinct (de facto) polity since its invasion by Turkey in 1974, is the subject of this ethnography about postwar politics and social relations. Turkish-Cypriots' sociality in a reforged geography, rid of its former Greek-Cypriot inhabitants after the partition of Cyprus, forms the centerpiece of Yael Navaro-Yashin's conceptual exploration of subjectivity in the context of "ruination" and "abjection." The unrecognized state in Northern Cyprus unfolds through the analytical devices that she develops as she explores this polity's administration and raison d'être via affect theory. Challenging the boundaries between competing theoretical orientations, Navaro-Yashin crafts a methodology for the study of subjectivity and affect, and materiality and the phantasmatic, in tandem. In the process, she creates a subtle and nuanced ethnography of life in the long-term aftermath of war.