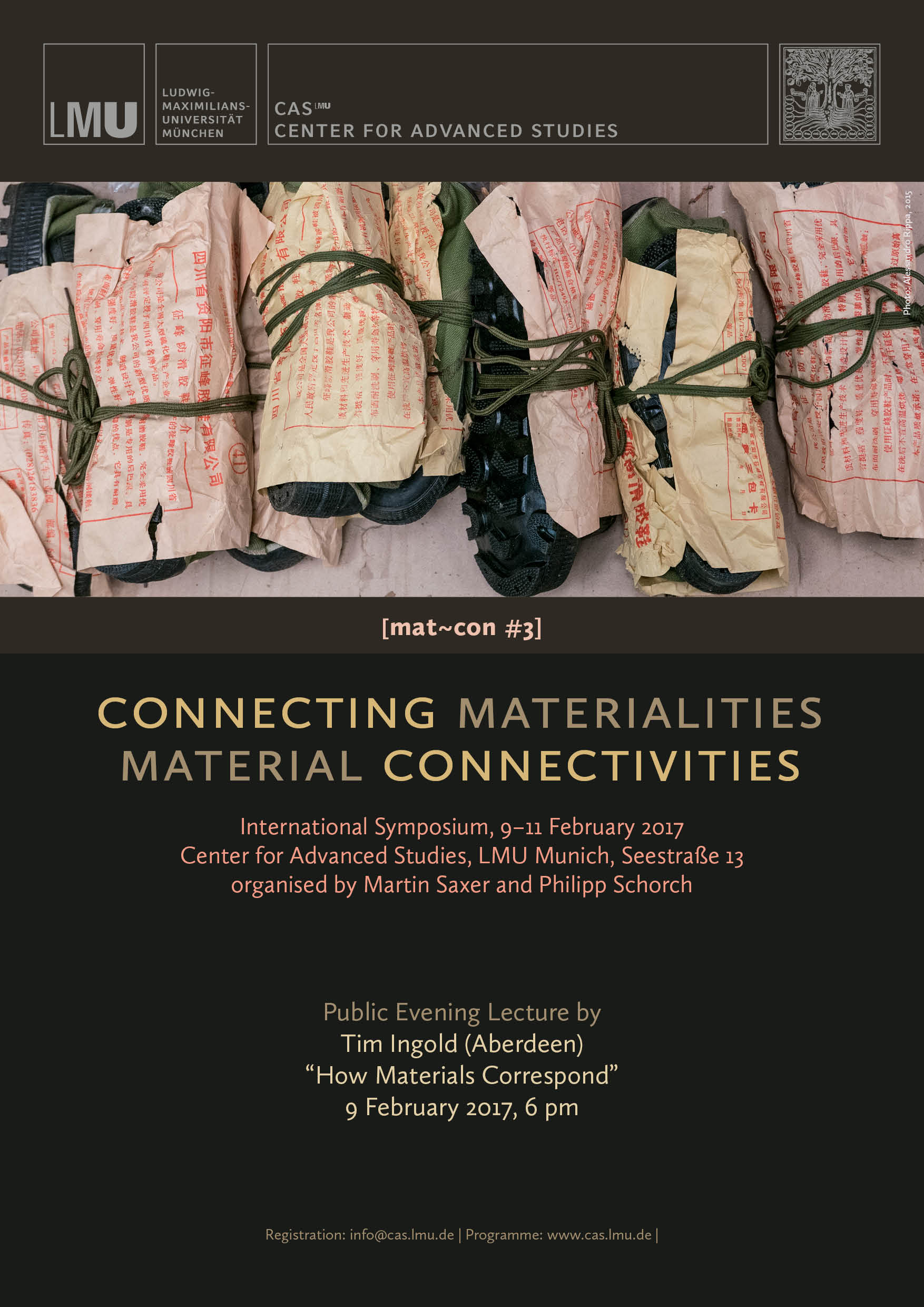 Abstract
This symposium is the third and final event of our mat~con initiative. In accordance with our original goals, it aims at collectively thinking through connectivity and materiality. Our starting point is simple: things that move and thereby connect or, the other way round, connections made through things are central to anthropology's concerns. From the Kula Ring to the journeys of museum objects, from the travels of empire-founding Buddha statues to the logics and logistics of shipping containers, connectivity and materiality are interwoven in various but particular ways. Somewhat akin to Heisenberg's uncertainty principle, we take connectivity and materiality not as defined properties of some-thing but as two interrelated modes in which an entity is, or rather is becoming, in a world. Thus, with materiality we do not mean the materials as such, but the underlying forces and potentialities as material entity. Likewise, connectivity does not denote a single connection, but the underlying mode of being or becoming connected with other entities. The question is how these two ways of existence relate and fold into each other to produce the realities we attempt to understand.
The symposium sets out to trace histories, dissect theories, scrutinize methodologies and contextualize ethnographies from a variety of different settings and strands of thought. Our objective is to bring these threads into dialogue in order to work toward a conceptual frame through which connecting materialities / material connectivities can be approached, studied and understood as transcultural, transregional and global phenomena.
Programme
9 February, 18:00

Public keynote by Tim Ingold, Aberdeen

10-11 February

Workshop, with papers and artistic-academic interventions by With Mark Aldenderfer (UC Merced), Julia Binter (Oxford), Jennifer Clarke (Aberdeen), Inge Daniels (Oxford), Natalie Göltenboth (LMU Munich), Lorenzo Granada (Universidad de los Andes, Colombia), Gabriele Herzog-Schröder (LMU Munich), Marc Higgin (Aberdeen), Adam Kaasa (LSE), Juliane Müller (LMU Munich), Catrien Notermans (Radboud University Nijmegen), Elia Petridou (University of the Aegean), Lisa Rail (LMU Munich), Srinivas G. Reddy (IIT Gandhinagar), Miriam Remter (LMU Munich), Felix Remter (TU Munich), Alessandro Rippa (LMU Munich), Amiria Salmond (Auckland), Philipp W. Stockhammer (LMU Munich), Gillian G. Tan (Deakin), Alice von Bieberstein (Cambridge), Anna-Maria Walter (LMU Munich), and Tom Widger (Durham)
A detailed programme can be downloaded here. A few impressions of the artistic-academic interventions can be found here.